Short story.
Android Phones available in many markets outside the US and Canada ship with call recording enabled. So if recording phone calls natively is important to you, then purchasing a phone from a country with more lax recording laws can be helpful.
Quick take:
Google disabled call recording in Android versions 9.0 Pie and higher.
To record both sides of a phone call on Android 10 or higher, you will need an external device or two phones.
Chinese phones and Android phones built for markets outside the US feature call recording.
How to record calls on Android: long story
One key difference between Android phones available in the US and Canadian markets and models available in Asia, Africa, Europe, and most of the planet is that the latter models often feature auto call recording. The reason for that is some states have laws that prohibit non-consensual recording. However, Canada and some states have a protection known as "one-party consent" that permits either person to consent to a recording. But do not forget, not telling the person you are conversating with over the phone that you are recording is legally a Gross Infringement of Privacy, meaning, the recorded individual has the right to take civil action. So, it is legally safer to tell the other person that you are recording.
Which phones have a call recording option?
If you own a Chinese phone or a phone manufactured for markets outside the US and Canada, you can record a phone call with a simple tap.
Huawei, Oppo, Xiaomi, Vivo, and other Chinese models ship with call recording enabled. All you must do is turn the feature on in your call settings. But finding these phones in the US market is problematic.
If you have an Android or IOS device manufactured in the US, it probably does not have a call recording feature for the reasons explained above. The question is, what is the easiest way to record phone calls on Android?
Does call recording work in my country?
According to Google Support, the downloaded version of the Google Phone app does not feature call recording. To verify if your phone app is the download version, tap and hold the app, then check the info button, the downloaded version will have ". downloadable" at the end.
That said.
Countries that Support Call Recording Natively
If you are in any of the countries listed below, your phone's call recording feature should be enabled:
Algeria
Ecuador
Kyrgystan
Saint Lucia
Angola
Egypt
Laos
Saint Vincent and the Grenadines
Argentina
El Salvador
Liberia
Saudi Arabia
Australia
Ethiopia
Madagascar
Senegal
Bahamas
Falkland Isalnds
Malawi
Sierra Leone
Bangladesh
Gabon
Mali
Singapore
Barbados
Gambia
Mexico
South Africa
Botswana
Ghana
Monaco
South Korea
Belarus
Gibraltar
Morocco
Sri Lanka
Belize
Guatemala
Mozambique
Suriname
Benin
Guernsey
Myanmar
Switzerland
Bermuda
Guinea
Namibia
Taiwan
Bolivia
Guyana
Nepal
Tanzania
Burkina Faso
Haiti
New Zealand
Thailand
Brazil
Hong Kong
Nicaragua
Togo
British Virgin Islands
Honduras
Niger
Trinidad and Tobago
Brunei
India
Nigeria
Tunisia
Cameroon
Indonesia
Northern Mariana Islands
Turks and Caicos Islands
Cayman Islands
Isle of Man
Pakistan
UAE
Central African Republic
Ivory Coast
Panama
Uganda Islands
Chile
Jamaica
Paraguy
Uruguay
Colombia
Japan
Peru
Uzbekistan
Congo
Jersey
Puerto Rico
Venezuela
Costa Rica
Jordan
Russia
Vietnam
Dominica
Kazakhstan
Rwanda
Zambia
Dominican Republic
Kenya
Saint Kitts and Nevis
Can you record a phone call on Android?
Yes, you can record phone calls on an Android device using the native phone app by Google, but under a few conditions. One, you must be in a region where call recording is legal. Two, the Android version on your phone must be lower than 9.0. if you are in the US. Why?
According to XDA forums and verified sources, Google blocked non-root recording apps from working and disabled permissions to the phone's internal mics starting with version 9 pie. That means if you are in the US or Canada, the only way to record calls on your device with Google Phone App is by rooting your phone and installing supported apps. If you do find an app that works, the audio quality will border on terrible. Rooting your device comes with some issues that we will not get into, one of them being you may brick your phone.
What if I have Android 10 +?
You will need an external device to record both sides of the conversation. Alternatively, you may stick to versions 7 and 8 to continue using call recording apps.
Which Android call recorder apps record both sides?
If your device features Android 9.0 and above, you may have noticed that majority of the apps available in the app store only record one side of the conversation. By taking away app permissions to the internal mic, Google made it near impossible to record both sides of a phone conversation. The question is, how do you get around this?
You record without an app.
How can I record a call on Android without an app?
As mentioned in a previous article, you will need an external recording device, two phones, a PC, or Bluetooth speakers.
How to record calls in Android 10 using an external device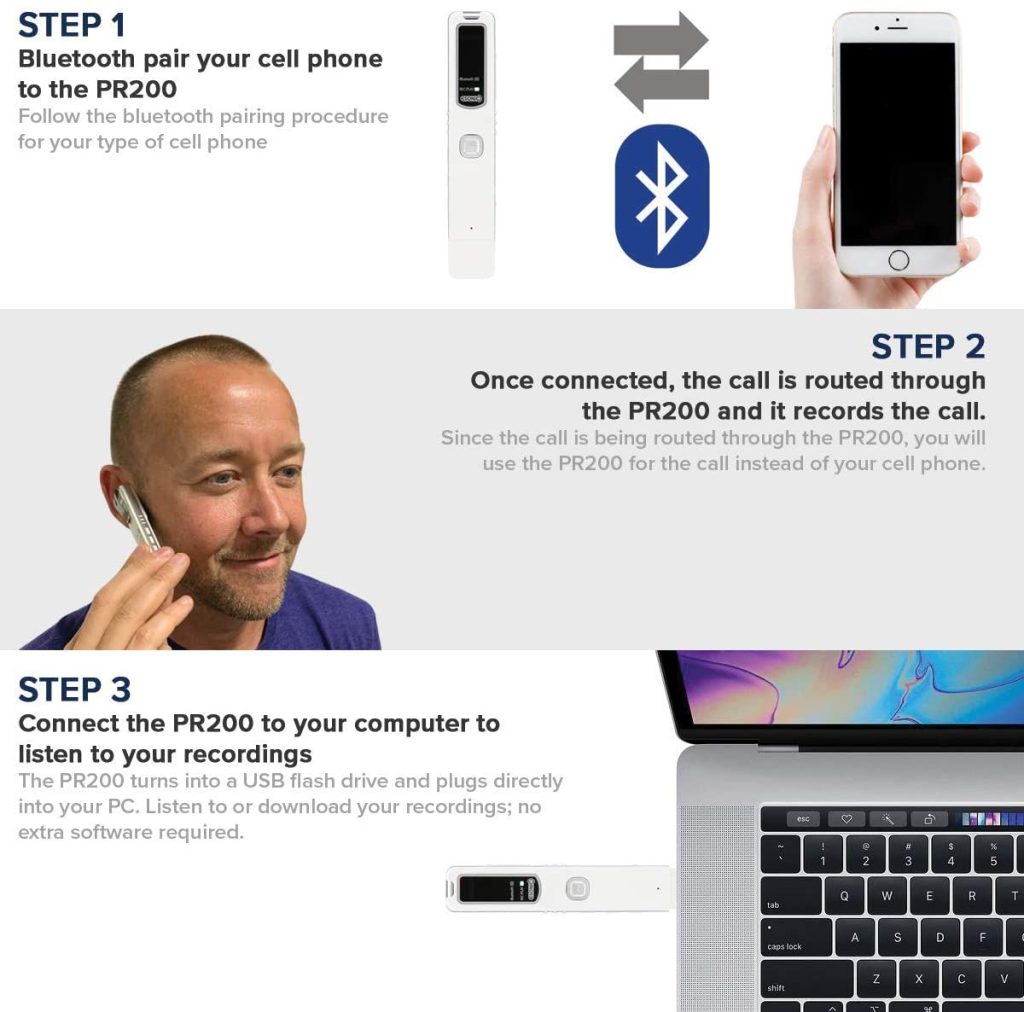 Image: RecorderGear PR 200 amazon
RecorderGear PR200 Bluetooth Cell Phone Call Recording device is the perfect example of an external recording device that works on IOS and Android. Unlike recording apps, the device does not need access to your smartphone's internal microphone. What the device requires is a Bluetooth device thus it works on feature phones, and you do not need cable or software to make it work. To retrieve recorded audio, you simply connect it to your computer's USB port.
Use a zoom recorder

Very popular amongst podcasters and journalists, you may use a Zoom Recorder to record high-quality audio during calls. But you will also need headphones and an external microphone to record both sides of the conversation.
Your phone will send audio through the device allowing recording (the device does not rely on the phone's internal microphone).
The analog method: Use two phones
Image by Karolina Grabowska from Pixabay
If you have two phones, you may turn one into a recording device. To do that you will need a microphone and a TRRS plug. You need the microphone to raise the sound to a usable level and the TRRS plug to connect the microphone to the recording phone.
An alternative to this is to purchase a microphone that connects directly to your phone, such as the Wireless Lavalier Microphone Plug play microphone system (see image below).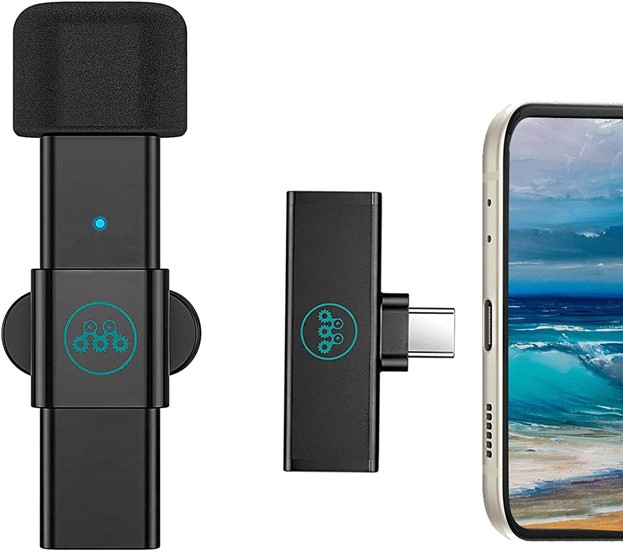 Tips:
Keep the microphone close to the other phone and your mouth to record both sides of the conversation.
Record in a quiet room.
Turn on the loudspeaker and close the Windows to minimize wind interference
How to use Google Voice to record a call on Android
By default, call recording on Google Voice is off. To use the feature, you must go to the settings and enable it. Available in the US and Canada, Google voice is a free service that allows you to make, receive and record phone calls.
To use the service, you will need a Google Account and any device that features internet connectivity. To begin -Go to voice.Google.com>create -then sign into a Google account> search for available numbers> then follow the on-screen prompts.
Notice that the service allows you to search for available numbers. Google Voice also allows you to link up to six numbers, meaning you do not need multiple devices and you do not have to use your real number.
According to Google, all participants must be on call to enable recording. Therefore, to turn on recording. First, answer the call> tap 4 -which will trigger an automatic announcement that call recording has begun. You may find the recording in your voicemail tab at https://voice.Google.com/
Use Windows Phone App
If you have a PC or Windows device, it is possible to link your Android device to it and make or receive calls. Your Phone Companion is an app available on the Android PlayStore that you may use to connect an Android device to a Windows device. But you need a Windows 10 PC that has Bluetooth capability and running the May 2019 update.
To record voice calls on Windows 10, you turn on the voice recorder in your settings.
See supported android devices here.
Call recording apps that work with the latest versions of Android
There are plenty of call recording apps in the Android PlayStore, but most of them either record one person, require you to dial through an external service, or do not work. Examples of Android Call Recording apps that work include:
TapeAcall Pro.
Truecaller
Automatic Call recorder Pro.
But remember, some of these apps will not work in regions that have anti-call recording laws. They also will likely require you to dial through an external number.
Summary
As mentioned, phones available in markets outside the US and Canada feature call recording. Meaning if you own one, what you have to do to record calls is: open the phone app>tap on the three-dot menu> go to settings>enable automatic call recording.
Some high-quality phones manufactured in Asia that have this feature include:
Remember that the phones must be produced for a market outside of Canada or the USA. So purchasing a Samsung from your local mall kiosk probably won't bypass the restrictions.
Finding local retailers who stock these phones in the US can be problematic. However, you can find them on Amazon or Alibaba following the links provided.
If that is not a viable option, you may record phone calls on Android using:
Google Voice
Windows Phone App Coupled with voice recorder.
Zoom recording devices.
External voice recorders.
Two phones.
Recording apps listed above.
If you decide to use recording apps, we recommend checking customer reviews and testing the app.
Overall, due to privacy concerns. Android developers have made it difficult to record phone calls on Android in the US and some countries. Therefore, the best and most convenient option is to use an external recording device that does not need access to your phone's internal microphone. Or you could buy a Chinese phone.